Let's All Kill The Teacher :)
I recently finished watching the anime for Assassination Classroom (Ansatsu Kyoushitsu) on Hulu this week and I would recommend it to anyone who wants an anime series outside of the norm.
Originally based on the manga by Yūsei Matsui, the series revolves Class 3-E, made up of troublemakers and lowlifes from a prestigious college prep school. One day they are given a very special assignment by their government.  That is TO KILL THEIR HOMEROOM TEACHER. But he is not just any teacher. This is a yellow, octopus-like creature that has already destroyed the moon and will destroy the Earth if the kids don't kill him by the end of their senior year. The creature, named Koro-sensei by one of the students, actually wants their students to kill him too (Pretty trippy right?).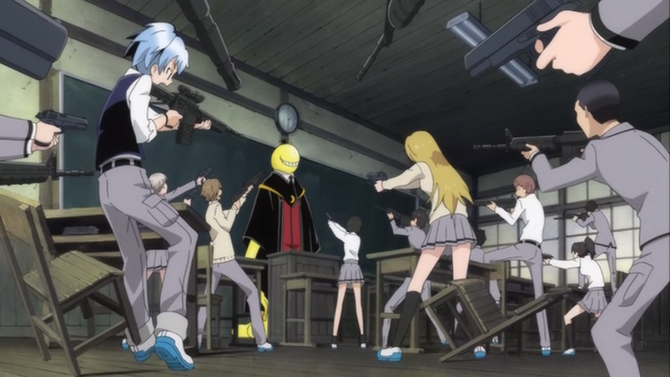 The anime series follows the class of miscreants as they are taught hand-to-hand combat, weapons skills, and poisoning techniques in an attempt to better their chances. And it is pretty hilarious. Not only do they have to kill this mysterious octopus man but it as it turns out, he's a pretty damn good teacher too. He pays attention to his students like any good teacher would. He worries if they're not doing well in their regular subjects and insists that a strong mind makes for a strong body. I was very impressed with the direction it took as it progresses and the ending will leave you in tears. So give it a watch, it's worth it.